Gift guide for mindful self-care
If you're still looking for Christmas presents ideas, here's a roundup I prepared for all last-minute shoppers. I believe in slow living and I hope you agree when I say: something in the self-care area is always a thoughtful gift. Who doesn't love to pamper themselves every once in a while? This is a gift guide for a mindful self-care, presenting exclusively sustainable products from small but powerful female-owned businesses I admire.
All of the products listed ship from Europe. If you decide to order, please mind shipping deadlines. If it's too late for these gifts to arrive, you can use this post as an inspiration board and look for similar products in your city/country. I only have one wish: when shopping for gifts, please support small businesses!
I consider myself very lucky to share my studio/shop with Maya of Garden State Candles, so I couldn't miss her in this round-up. Maya's candles are 100% vegan and poured by hand in our shared space. They are scented with essential oils & botanical fragrance oils. Treat your loved ones to some botanical aromatherapy with natural essential oils. And there's a bonus! A portion of each purchase is donated to animal rescue shelters around the world <3
My favorite shop hands down! They offer exclusively ethical products, like this hand-poured, cut and stamped soap. For all who look for some ecological luxury this Christmas. It is vegan, made with natural ingredients only and gentle on your skin. And it helps you support a good cause! Aerende is an online shop selling beautiful products and gifts for your home, all of them made in the UK by people facing social challenges. Moreover, Emily of Aerende is an advocate for sustainable and ethical production, so you can be sure all their products are made with care for both people and the environment. As said, a huge role model for me!
Another idea for your loved ones who suffer during long and cold winters. Wooly, hand-knitted socks by Naked Dye have it all – they're natural, breathable, hypoallergenic and renewable. These will keep you cosy and warm even during the coldest days. They are not only a natural alternative to mass produced items, they are healthier for both you and for the environment. I am a huge fan of wool sock and can't imagine surviving any winter without them! Cold feet can make life miserable so I believe one can never have enough of wooly goodness. Kasia of Naked Dye is a fellow dyer who uses plants and kitchen waste to make some of the loveliest colors, so check out her shop for even more gift ideas.
This is a slightly unorthodox idea but who said plants can't be Christmas gifts? Let me list some of the benefits of surrounding yourself with plants. Seeing plants can make you feel calm and relaxed. They purify the air and lower risk of illness. Touching plants may make you feel calmer, and caring for plants helps increase compassion and improve relationships. So how about gifting a green friend to a person you care about the most? I'm happy to see that plant shops are getting so popular these days and I can wholeheartedly recommend Plant Circle to all plant lovers in Berlin. And it's easy to find - Monika is one of 2 other ladies who I share my studio/shop space with!
Can there be a more precious gift then time? If you're still not sure what to gift your loved ones this Christmas, consider gifting an experience. Creative workshops are always a great idea, so how about practicing self-care at a pottery wheel? Working with clay is proven to be therapeutic, and so is investing time in making something just for yourself. There's a wonderful and rapidly evolving ceramic studio and pottery school in Berlin I can highly recommend. The Moss Keramik mission is to spread the love of handmade pottery & empower people to make their own. Mia offers both handbuilding and wheel classes, but also studio memberships, for those who already fell in love with the process and want to continue to throw.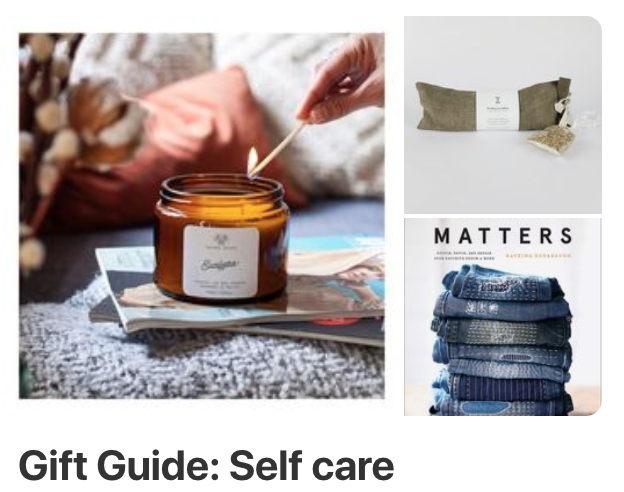 I will be adding more ideas to a dedicated Pinterest board. Follow along to get inspired.
This mindfully designed softcover journal features a planner with a to-do-list for every week of the year and some additional planning helps. But what I love about it the most - there is a column titled "myself", where you can write down what you want to do for yourself this week: whether this is a yoga class, exercise, reading a book or a letter you wanted to write for so long. This diary will help your loved ones make time for themselves, because life is too short to work around the clock!
What can be better than wrapping yourself in a huge blanket this winter, with a cup of hot chocolate and your favorite book in your hand? Not much! So let me point you to the most lovely blanket I know of - this statement piece by Emma Wood. The colors are classic and timeless and the design is as beautiful as the process behind it. Each product is carefully designed by Emma in Berlin, who then works with some of Britain's best wool textile manufacturers to produce the high quality Merino Lambswool cloth. Wool is natural and comforting, so it's the best choice for cold winter days.
Natasha of Forage Botanicals helps women incorporate relaxation into their monthly routines in an easy way using self-care rituals. I'm a big fan of Natasha's work and I love this thoughtful kit! This self-care kit will be highly appreciated by all those who have a moody moon time. It's all about setting a serene scene of in your tub with a herbal cuppa to calm your raw nerves. The tea will help you lift your mood. Bath salts will help your muscles relax in a hot bath give. Soy wax candle will enrich your routine and make it into a powerful ritual.
Not sure how awkward it is to add your own creations to a gift guide, but I love this product too much to skip it. Self care means making time for yourself, because we are our most valuable assets. So it is worth taking 10 minutes off a day to dive deep into ourselves and just rest or meditate. This was the idea behind my pillows - making a product that helps boost both physical and mental health. They are made with raw linen and filled with organic millet and rosemary for a beautiful and activating scent. The whole purpose of this eye cover is to rest on your face and bring relief to your eyes, sinuses, and mind. Perfect gift for a person in your life who needs some quality relaxation.
Mending Matters explores sewing on two levels: First, it includes more than 20 hands-on projects that showcase current trends in visible mending that are edgy, modern, and bold—but draw on traditional stitching. But this book will also heal your soul. It addresses the way mending leads to a more mindful relationship to fashion and to overall well-being. In essays that accompany each how-to chapter, Katrina Rodabaugh explores mending as a metaphor for appreciating our own naturally flawed selves, and she examines the ways in which mending teaches us new skills, self-reliance, and confidence, all gained from making things with our own hands. Mending is a slow but powerful practice and I can't wait to start my first project under Katrina's guidance (yes, I got my copy already).